The Campion library's special collection, the 'World of Edmund Campion' contains over 700 volumes covering the period of Recusant Catholicism from the Reformation up to the mid-19th century. The collection is named after St Edmund Campion, a 16th century Oxford scholar and martyr, and provides a wealth of background material on Edmund Campion's era and the Catholic Church in England.
There are many interesting and unusual works within the collection but of special note is the set of Catholic Record Society volumes. Established in 1904, The Catholic Record Society (CRS) sought to create access to material and records needed for the study of Roman Catholic history in England and Wales. The society published content from a wide range of sources such as records, letters, diaries, registers, and chronicles from the time of the Reformation and beyond. CRS also publishes a series of monographs which are available in the Edmund Campion Collection.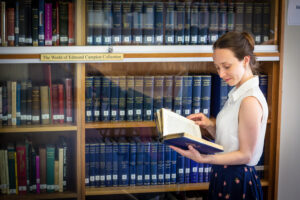 As well as the records and monographs, the CRS publishes a journal originally titled Biographical Studies 1534-1829, then renamed in 1954 to Recusant History, and finally renamed British Catholic History in 2015. The journal is published by Cambridge University Press and contains reviews, peer-reviewed research and other works on many aspects of British Catholicism. The biannual issues are part of the 'World of Edmund Campion Collection' and contribute to the developing content of this special collection.
While the library's collection is primarily developed around the teaching and learning needs of students and staff, the 'World of Edmund Campion Collection' goes a little beyond this to provide a significant body of work for scholars and others who are interested in Roman Catholic history.
Anyone interested in viewing or accessing CRS publications or other material from this special collection can contact the library for more details.
Keziah is the Library Manager and Study Skills Advisor at Campion College. To get in contact, please email k.vanaardt@campion.edu.au or call (02) 9896 9307